Summary: To actually believe God will lead and guide, protect and provide, will give you the calm assurance to endure whatever troubles you. To remain faithful, however, requires consistent reflection on the revelation of God found in the Bible. Both for reminder of his promises and as a weapon in your fight.
Scripture focus: Luke 4:1–13; Deuteronomy 26:1-11
Date: Sunday, 10 March 2019 (Belfield Uniting)
During my visit to my doctor this week, he confirmed I have lost 13 kgs since he last weighed me on his scales. What he doesn't know is my weight has gone down, then up, then down, then up, and so on, in a painful, and potentially damaging, cycle.
I have learned one lesson on this journey. In my desire for a healthy weight and body composition, I have been encouraged to become comfortable with a little hunger.
Why?
Humans are not generally comfortable with discomfort. When there is difficulty in our life, if we can't avoid it, we get very irate. Where is God in all this, we ask? How can God be good if he lets me suffer?
Perhaps there are lessons to be learned along the journey of one's life, if we would be open to them.
Explanation
Favour in Return for Allegiance
You, the Levites, and the resident aliens among you will rejoice in all the good things the LORD your God has given you and your household. (Deuteronomy 26:11)
Our Old Testament reading comes from The Book of Deuteronomy. This fifth and final book of the Hebrew bible, known as The Pentateuch, contains the law given by Moses to the ancient Israelites as they were about to cross the river Jordan into the land promised to its ancestors, Abraham, Isaac, and Jacob. What is contained in Deuteronomy is not a second law but a second giving of the law that had first been given as the terms of the covenant between the Lord and the people of Israel. That covenant was mediated by Moses on Mt. Sinai immediately after the Israelites' deliverance from slavery in Egypt.
As the Israelites were about to enter the Promised Land, Moses reminded them to make an offering to the Lord upon arriving. When making their offering, they were to pray in such a way as to acknowledge they came from nothing, yet God had been with them on their journey, every step of the way, leading, protecting and providing (Deut 26:5b–10).
Why? Why the specific instruction to not just make an offering but to make an offering along with an acknowledgement of their reliance on God?
If allowed to enter the Promised Land as they wished, the ancient Israelites would likely have settled in without any acknowledgement or offering. In doing so, of course, they would have lost God's favour and broke the covenant, so that's not really an option.
If they had given it some thought, maybe the ancient Israelites would have made an offering without a prayerful acknowledgement. That's a bit like giving a tip though, isn't it? It signifies gratitude but also reinforces our power over the one serving. That also would have lost God's favour and broke the covenant, so also not an option.
It is right and proper to acknowledge our gratitude to God through the worship of tithes and offerings, and other spiritual practices. It is important to do so with the right intention and in the right spirit.
Acknowledging their reliance on God's favour kept the ancient Israelites from arrogance and in right relationship with God. He would continue to lead, protect and provide for the Israelites as long as they continued to acknowledge their dependance and allegiance to God our creator. For it is as the psalmist reminds us,
Because he has his heart set on me,
I will deliver him;
I will protect him because he knows my name.
When he calls out to me, I will answer him;
I will be with him in trouble.
I will rescue him and give him honour.
I will satisfy him with a long life
and show him my salvation. (Psalm 91:14–16)
Psalm 91 reminds us of the promises of the Lord to protect and provide. There is a condition, however, that one has his heart set on the Lord.
The Disturbing Condition to God's Favour
Does this seem unfair? If God is our creator and God is good, shouldn't he automatically protect and provide, without conditions? We would all like that to be the case, wouldn't we? But in this we could not be more selfish!
For God to act this way would be to put us in the position of power and God in our service, grovelling for our attention. We should be the ones grateful that God pays any attention to us at all, that he desires a relationship with us! Yes, there is a condition to God's favour —that we be grateful for it— and this is exactly how it should be, for our sake.
This condition then begs the question: When things go wrong, not as they should, is the fault God's for not protecting and providing or ours for not remaining faithful, for not demonstrating our allegiance or doing our part to keep the relationship alive?
A Forced Journey Through a Wilderness
Let's be honest: With God on our side, we expect life to be beautiful and for nothing to hurt. I'm sure so too did the ancient Israelites. When they entered the Promised Land, they certainly expected everyone currently living there would just move away and leave without any trouble. Instead, the Israelites had a lot of work to do and faced a lot of opposition.
Then Jesus left the Jordan, full of the Holy Spirit, and was led by the Spirit in the wilderness for forty days to be tempted by the devil. He ate nothing during those days, and when they were over, he was hungry. (Luke 4:1–2)
Similarly, in our reading from The Gospel of Luke, we are reminded even Jesus endured trials and tribulation, hardship and heartache. In fact, God intentionally led him into that experience through the Holy Spirit! It turns out journeying through the wilderness was good for Jesus, even though he may not have felt that way about it at the time.
It just might be the case for us our journey through whatever wilderness we find ourselves in may, in fact, be good for us. God may even know this and have been the one to put us in that wilderness or be turning the situation into a greater good (cf. Rom 8:28).
The Journey Out
That's not comforting, I know. Perhaps it would be better then for us concentrate on how Jesus journeyed out of the wilderness rather than on how he found himself in the wilderness.
And Jesus answered him, "It is said: Do not test the Lord your God."
After the devil had finished every temptation, he departed from him for a time. (Luke 4:12–13)
In the midst of his wilderness experience, Jesus faced temptations at the hand of Satan. How did he resist the temptations he experienced? What can we learn from his journey out of the wilderness?
In a state of weakness, Jesus faithfully resisted temptations to be less than he was. He was tempted to do less or other than he was called to do. He knew his purpose and stayed true.
The temptations Jesus faced were no different than ours, even though they were entirely unique to him: He was tempted to focus merely on his physical appetites (turn stones into bread); to seek position and authority at the expense of others (kingdoms of the world); and, tempted with power and privilege (jump from the pinnacle of the Temple).
In the face of temptation, Jesus relied on his memory of the scriptures and refused to put God to the test. There is no other dialogue or interpretation. The only words Jesus spoke were words from the Bible. They served as the foundation for his worldview, for his faith and lifestyle. When he wrestled with a question or a challenge, from Satan no less, there was no wavering. He turned to the Bible for help and guidance.
We may never have an experience like Jesus, yet we may feel our own experience of wilderness exactly as Jesus felt his.
Regardless of the cause of our journey into wilderness, what matters is how we journey out. Each time we resist temptation, we become stronger and wiser in preparation for the next. Jesus too experienced further temptation in his life, every step along his way to the cross. The Temptation of Jesus can serve as an inspiring story and an example for all who are tempted.
Or will we go our own way, forgetting the God who created us?
John Noble Learned to Pray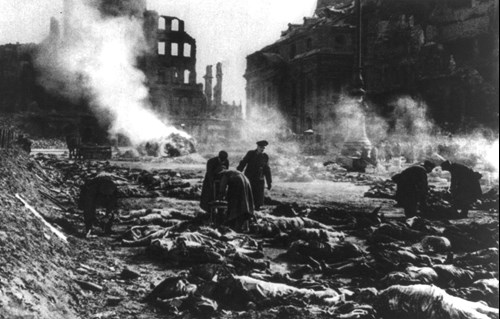 On 13 February 1945, John Noble learned to pray.
Noble and his family were living in Dresden, Germany, when Allied bombers decimated the city. He knew the walls of their basement were no match for the coming bombs, so he prayed in earnest to the god he knew very little about.
Having survived the bombing, Noble soon forgot his thankfulness to God on that night.
Noble and his family were American citizens who had returned to Germany to operate a camera business. As the Russians moved in to occupy East Germany, they thought they would be safe. Instead, Noble and his father were taken into custody.
The Soviets starved their prisoners into submission, so Noble once again cried out to God in prayer. At first, he prayed for bread and release. He finally reached a point of weakness in which he told the Lord he could not go on any longer. Noble asked the Lord to either take him or, if he meant for him to go on, to give him the strength to do so.
Noble reported later a new strength flowed into him. "Literally, I felt as though I was born again."
God remained with John for the ten years he spent in prison camps. During that time, his faith deepened rather than diminish. Later, Noble wrote a book of his experiences, I Found God in Soviet Russia. It sold tens of thousands of copies and included reports of many miraculous experiences he and other Christians had during those terrible days.
Noble described worship services that crossed the barriers of denominations. He saw priests who suffered dreadful reprisals for carrying out their duties, nuns who went without winter clothes rather than take part in tasks they considered wrong.
Noble was able to share his testimony with Russian prisoners (and even guards), who also hungered to know about Christ.
A group of Christians in America, who had never met him, began praying for his release. Two years later, he was freed. The American government had discovered he was alive and had instituted inquiries about him.
In 1945, John Noble began a journey into a wilderness we can only begin to imagine. Through it all, he learned to pray and to rely on God our creator. What could have been an experience to destroy what little faith he had instead bolstered Noble's faith as his reliance on God strengthened and guided him through his wilderness experience.
Noble demonstrated his gratefulness for and reliance on God through the publication of his book.
Conclusion
No one will deny that life can be hard. We would prefer it was beautiful and nothing hurt, but that is rarely anyone's experience.
The temptation is to focus on the experience. Many people go mad with grief at having had such experiences. Moses' advice and Jesus' example is to focus not on any experience of suffering but to rely on God our deliverer.
If we remain faithful, both during and after, we can count on God's favour. In other words,
We know that all things work together for the good of those who love God, who are called according to his purpose. (Romans 8:28)
To actually believe God will lead and guide, protect and provide, will give you the calm assurance to endure whatever troubles you. To remain faithful, however, requires consistent reflection on the revelation of God found in the Bible. Both for reminder of his promises and as a weapon in your fight.
And once you have endured, don't forget to be grateful!
Let us pray:
God Most High,
thank you for signs of your power and grace,
shown to us even in the wilderness.
Give us courage to stand firm in your Word
in every time of trial and testing,
that we may enter the land of your freedom
and receive the salvation you so generously give;
through Jesus Christ our Lord.
Amen.