Science Proves We Need Jesus
Scientists tell us we need at least four basic elements to survive: water; air; food; and, light.
In the Bible, we are told Jesus is:
the Living Water (Jn 4:10)
the Breath of Life (Ac 17:25)
the Bread of Life (Jn 6:35)
the Light of the World (Jn 8:12).
So, science is correct, we need Jesus to live!
Signs of Life Are Always Attractive
Everyone wants life to the full but few know it is found only in and with our creator. How can we help them to see the light of life found in Jesus?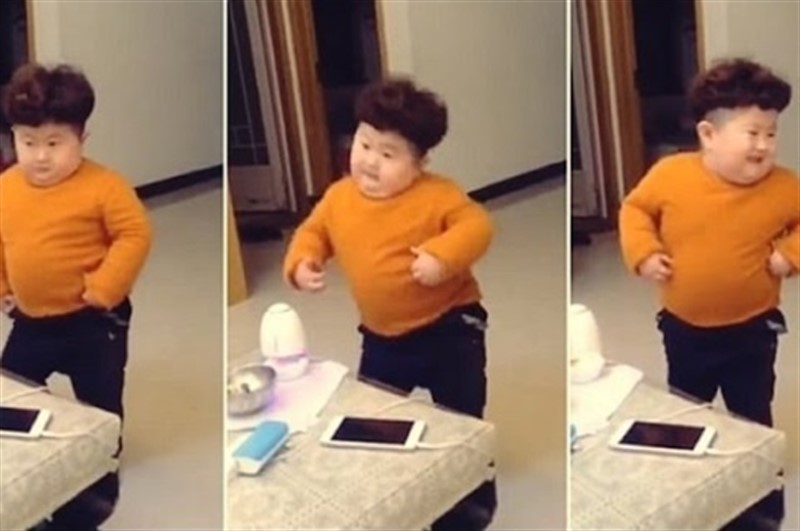 Hilarious footage online shows a chubby-cheeked toddler named Yang Zecheng giggling and smiling as he dances.  Aged just 3 years and 11 months, the viral video makes you want to join in the dance.2
Signs of life are always attractive!
Why?
For the person with faith in Jesus, we rest in the certainty we are known by him.  When we therefore seek to love our neighbours as we have been loved, we begin to see and know others from a grace-full perspective.  This enables us to experience the free, full and forever life Jesus promised.  May that life so overflow ours into others!
What?
To Know as We've Been Known
From now on, then, we do not know anyone from a worldly perspective. Even if we have known Christ from a worldly perspective, yet now we no longer know him in this way. Therefore, if anyone is in Christ, he is a new creation; the old has passed away, and see, the new has come! (2 Corinthians 5:16–17)
Once a person has become reconciled to our creator, he will, from then on, "know" people differently.  To know is here used in the sense of "to estimate" or "to evaluate".  Our selfishness and sin causes us to both evaluate and treat people badly, and broken relationships are the result.  When we finally accept Jesus is who he said he is and that what is written about him is true, we are transformed, and one benefit is our way of evaluating and treating people is changed for the better.
Imagine being so secure in who you are and to whom you belong that you no longer have to compete with others, no longer feel compelled to put others down so that you might be lifted up ...
How much better would you feel about yourself and about others?
How much better a place our world would be if we were all so transformed?
The apostle is here describing one significant way to love our neighbours as our selves, to see others from the perspective of God's grace and to know them as we have been known.  There is a reason this is the second greatest commandment identified by Jesus: It brings about a radical transformation in oneself and our communities.
Jesus Did Not Discourage or Avoid
Speaking of an example of following his own commandments, Jesus is truly our inspiration:
All the tax collectors and sinners were approaching to listen to him. And the Pharisees and scribes were complaining, "This man welcomes sinners and eats with them." (Luke 15:1–2)
These community leaders had a good reason for avoiding tax collectors and sinners; however, they allowed their selfishness and sin to exaggerate the principle.  They would not see these people other than through a worldly perspective; thus, they would never allow themselves to know these, their neighbours, from a grace-full perspective, nor would they allow themselves to be known by them.  How sad.
Jesus was so full of the grace of God he did not discourage nor avoid the "tax collectors and sinners".  He even sought to help the community leaders gain a better, grace-full perspective by sharing with them what we now know as the Parable of the Prodigal Son.
Two Sons, Not One or the Other
A man had two sons. (Luke 15:11)
We always treat this parable as if it is only about the younger of the two sons.  Some inspired preachers have begun talking as if the parable is more about the older son than the younger.  Truly, I tell you, the parable involves two sons, and we would do well to pay attention to both of them equally, to see them both from a grace-full perspective.
Neither Know What They Already Have
What do we know about these two sons?  The parable begins with both having access to the father and the assets of the estate, both just want to have fun, and neither know what they already have.
The Selfishness of the Younger
The younger of them said to his father, "Father, give me the share of the estate I have coming to me." So he distributed the assets to them. (Luke 15:12)
The younger son is so selfish, and oblivious to what is available to him, that he, essentially, wishes his father dead, so that he might pursue a life of travel and adventure and fun. 
The Recklessness of the Younger
Jesus described what happened next as,
Not many days later, the younger son gathered together all he had and traveled to a distant country, where he squandered his estate in foolish living. (Luke 15:13)
There is no doubt the younger son was wasteful, reckless and unrestrained in the lifestyle he adopted.  But I do not want us to evaluate this younger son from a worldly perspective. 
The older son fell into this trap.  He accused his younger brother of "devouring [his father's] assets with prostitutes" (Lk 15:30), but how would he know this?  He evaluated his brother from a worldly perspective and was therefore unprepared for the grace his father would eventually demonstrate.
His desire for travel, adventure and fun was not in and of itself sinful.  This desire did not require him to break the relationship with his father with hurtful words.  He had access to the assets of the estate!  If he had asked nicely, his father just may have let him go on a trip. 
In Australia, we call this a gap year, a year of travel and adventure and fun before one commits to tertiary education or beginning a career.  Why take a gap year?  According to The Art of Manliness website, there are five good reasons to take a gap year:3
To Gain Greater Focus. A gap year gives one an experience where you really get to know yourself and what you want out of life. You'll learn how to be self-reliant. You'll come back with a sense of what your goals are and how to achieve them.
To Man Up/Mature. Breaking away from your old life will force you to make decisions entirely on your own.
To Build Your Resume. Showing your potential employer that you spent a year building wells in Uganda will set your apart from those whose only work experience was waiting on tables.
To Learn a Foreign Language. A year is sufficient time to become fluent in many foreign languages. It's a skill you'll have for the rest of you life and one that employers find very attractive.
You'll return to a (hopefully) stronger economy. The job market stinks! Why not duck out for a year, gain some valuable skills, and return with an expanded resume to a (hopefully) improved economy?
If the younger son was raised well by his father (à la Prov 22:6), there is no reason to assume then his "foolish living" was sinful living, although he was most definitely unwise in how he approached his father, as well as selfish and reckless in how he used his resources.
The Humility of the Younger
After he had spent everything, a severe famine struck that country, and he had nothing. (Luke 15:14)
Whatever we want to say about how he spent the money, the younger son did squander what he had, and found himself unprepared in the midst of a natural disaster.
Then he went to work for one of the citizens of that country, who sent him into his fields to feed pigs. He longed to eat his fill from the pods that the pigs were eating, but no one would give him anything. (Luke 15:15–16)
The younger son fell so low he was forced to take work against all of the principles of his upbringing. Even so, this was not enough to meet his basic need. He had no one to turn to for help.  No one cared for him.
The Selfishness and Petulance of the Older
Now his older son was in the field; as he came near the house, he heard music and dancing.
Then he became angry and didn't want to go in. (Luke 15:25, 28a)
What about the older son? He did not take a gap year. He instead remained at home and faithfully served his father.  What a good boy he was!
Something is not right though. Why did he become angry? He too wanted to feast and have fun, yet didn't.  He had access to all the assets of the estate but, apparently, he never took advantage.
Clearly, this bothered the older son and, I dare say, this likely began with his brother's exit from the scene. The younger son got out first! Remaining behind, the older son feels unappreciated but has no evidence this is the case.  The older son too is selfish, and oblivious to what was available to him.  He was petulant with his father and, just maybe, also wanted him dead, although he would never say it out loud.
The Grace of the Father
While the son was still a long way off, his father saw him and was filled with compassion. He ran, threw his arms around his neck, and kissed him. (Luke 15:20b)
Eventually, the younger son came to his senses, appreciated his mistake and his sin, and returned home.
Despite the offense of the younger son, the father chose not to see him from a worldly perspective. He offered instead abundant grace and reconciliation to his younger son.
"Son", [the father] said to [his oldest son], "you are always with me, and everything I have is yours. But we had to celebrate and rejoice, because this brother of yours was dead and is alive again; he was lost and is found." (Luke 15:31–32)
In response to the older son's unhappiness and petulance, the father offered him too abundant grace and reconciliation.
May we see these sons as the father saw them, with the same grace-full perspective as our Heavenly Father!
So What?
Jesus shared with the community leaders a parable. What might the encouragement of the apostle look like in 'real' life?
A Rock 'n Roll Lifestyle
I may have mentioned in the past how I came to faith in a local congregation of The Salvation Army. You have to appreciate the members and leaders could not have been more conservative, middle-class, white-bread Christians. That they would make room for me in their lives and community is quite extraordinary.  None of the girls would go out with me, of course, but they were certainly friendly to me.  About them I cannot complain.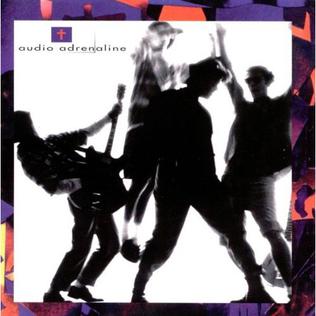 To give you a sense of just how radical was their acceptance of me, let me describe for you how, as I came to faith, my lifestyle was a big issue. I have always had very esoteric tastes in music. An example would be the song "My God" performed by Audio Adrenaline.4  It's a little bit of Punk, a little bit of Rap, a little bit of evangelism and a whole lot of attitude!
When I discovered I could be a Christian and still listen to Punk Rock music, I was overjoyed. When I discovered I could be a Christian and still have fun in the ways that appealed to me, I was ecstatic.
The members of that church could very easily have dismissed me for having too wild a lifestyle. They could have evaluated me from a worldly perspective and not really gotten to know me because how I was living was so radically different. Instead, they came to know me from a grace-filled perspective, loved me to faith, supported me in my highs and lows, and always gently guided me back to the ways of God.
The Forgiveness of the Amish
While I am very thankful to the members of that church, that is a very easy example (although it may not have seemed easy to them at the time). A more difficult example was demonstrated following the events of 2 October 2006, when Charles Carl Roberts IV walked into an Amish one-room schoolhouse in Lancaster County, Pennsylvania. He took hostages, then eventually shot eight out of ten girls aged 6-13, killing five, before committing suicide.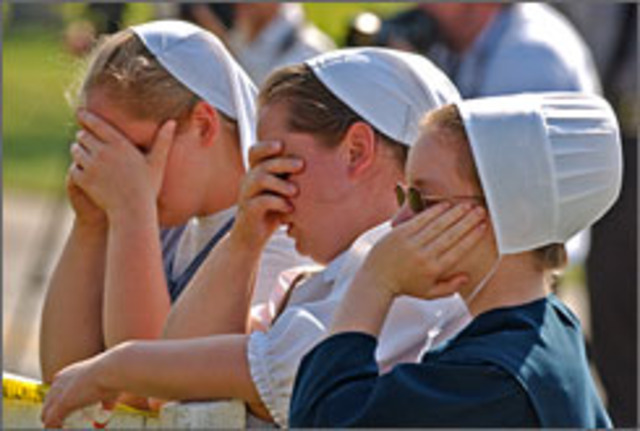 On the day of the shooting, a grandfather of one of the murdered Amish girls was heard warning some young relatives not to hate the killer, saying, "We must not think evil of this man." Another Amish father noted, "He had a mother and a wife and a soul and now he's standing before a just God." Jack Meyer, a member of the Brethren community living near the Amish in Lancaster County, explained: "I don't think there's anybody here that wants to do anything but forgive and not only reach out to those who have suffered a loss in that way but to reach out to the family of the man who committed these acts."
A spokesman for the gunman's family said an Amish neighbour comforted the family hours after the shooting and extended forgiveness to them. Amish community members visited and comforted his widow, parents, and parents-in-law. The Amish community also set up a charitable fund for the family of the shooter. About 30 members of the community attended the gunman's funeral, and the widow of the killer was one of the few outsiders invited to the funeral of one of the victims.
I cannot even begin to imagine the horror of that situation or the pain the families, and the community surrounding them, would have felt. That they could evaluate their children's killer with a grace-full perspective, and seek to know his family, is a witness of such a high quality. God truly was honoured in their acts of forgiveness.  The gunman's family, and many others watching in through the eyes of the media, came to see faith in Jesus and a Christian lifestyle with a new perspective.
How could the Amish community look through their grief to forgive the gunman and "know" his family with a grace-full perspective? Because they knew themselves to be known by our creator. Despite their grief, they knew their life rested on their faith in Jesus and they let their life overflow into others who, clearly, would be so desperate for such because of their own grief and loss.
Now What?
Who are the "tax collectors and sinners" in your life? Who are the people who cause you to shudder with disgust?
Follow Jesus' example by not discouraging them or avoiding them. In so doing, you will be taking at least a small step toward loving your neighbour as yourself.
Do this because you know you are known by your creator. You can take comfort in who you are because you know to whom you belong. This is the "yourself" part of the second greatest commandment.  Jesus does not see you nor I from a worldly perspective, so neither should we look at others from a worldly perspective, one of disgust and revulsion for whatever petty reasons we can contrive in our own minds.
When we evaluate others from a worldly perspective we jump to all sorts of conclusions about what they are doing and why. We shut down any possibility of knowing them and this interferes with our capacity to extend to them the grace of God.
So, when you find yourself shuddering in a person's presence take that as a 'red flag'. From now on, that feeling is a signal for you to to draw closer and consciously reassess them from a grace-full perspective.  Take it for granted you will not experience the free, full and forever life Jesus promised unless you love your neighbours, all of your neighbours.
When you do draw close, may that life so overflow ours into theirs!
Let us pray:
Gracious God, seeker of the lost: 
draw your children back to your loving embrace,
restore us to our inheritance as daughters and sons,
and reconcile our hearts to you,
that we may become ambassadors
of your reconciling love to all the world.
Through Christ by the power of the Holy Spirit we pray.5
Endnotes
2Watch the video online at The Daily Mail UK website: https://tinyurl.com/y4j7nhml
3Brett & Kate McKay, "The Benefits of a Gap Year", The Art of Manliness, updated 5-Feb-2019, https://tinyurl.com/y3sqsrxy (accessed 30-Mar-2019).
4Watch online at https://www.youtube.com/watch?v=nWKwWUeEshw.
5Unless otherwise noted, the prayers used in this sermon are reprinted by permission of Westminster John Knox Press from Feasting on the Word® Worship Companion, copyright 2015.