Recognising Jesus Despite Our Grief
Having eyes, ears, and hearts open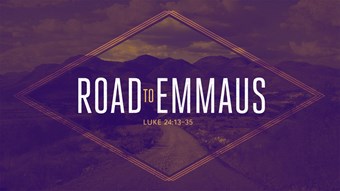 Summary: When in grief, keep your eyes, ears, and heart open for the presence of God or, if experiencing a lack of awareness of his presence, imagine how he would be present and what he is doing in, with, and through you.
Scripture: Luke 24:13–35[1]
Date: Sunday, 26 April 2020 (Belfield Uniting, delivered via YouTube)
Introduction
Welcome to Church On The Corner! My name is Ian Forest-Jones, I am the Lay Pastor at Croydon Park-Belfield Uniting Church. It is my pleasure to welcome you to our virtual service of worship and hope these reflections on our scripture focus today are helpful and encouraging to you in your spiritual journey. Let me echo the words of John that it too is my hope that by believing in Jesus you may have life in his name.
Is It Healthy to Have Two Days of National Grief?
I would like to begin today by acknowledging that yesterday was Anzac Day here in Australia, one of two days for national reflection on and remembrance of the sacrifice of soldiers in the pursuit and protection of peace.
One might wonder whether it is healthy for our culture to have two days for national grief.
What & Why?
Even when we are in grief, keep your eyes, ears, and heart open for the presence of God or, if you are experiencing a lack of awareness of his presence, imagine how he would be present and what he is doing in, with, and through you. This is the way to life in Jesus.
Let us pray:
Christ is the door by which we enter your new order, O God; he is the source of our comfort and the anchor of our faith.  Through him you have shown us the way unto the land of your promise, where peace is eternal and grace has no bounds.  As we enter the courts of your sanctuary may we know you are with us, and give you all the honour due your glorious name.  Amen.
The Disciples Were in Grief as They Made Their Way to Emmaus
Now that same day two of them were on their way to a village called Emmaus, which was about seven miles from Jerusalem. (Luke 24:13)
"That same day" is a reference to the day the empty tomb was discovered, first by the women (led by Mary Magdalene), then by the disciples Peter and John (Lk 24:1–12; cf. Mt 28:1–10; Mk 16:1–8; Jn 20:1–18).
The disciples on their way to Emmaus, presumably their hometown, had heard the news but had not stuck around to verify the news. Instead, they were discussing and arguing over everything that had taken place (Lk 24:14-15).
Jesus Was Not Meant to Have Died
Their expectations of Jesus were not met —"we were hoping that he was the one who was about to redeem Israel" (Lk 24:21a)— even though he had, in fact, predicted his own death three times (Mt 16:21–23; 17:22–23; 20:17–19).
Their hearts were broken by the loss of their friend and mentor.
Separation by Death Does Not Seem Fair or Right
It's not fair because most often a person dies before they or we think it is their time, at the hands of persons of forces outside our control.
It's not right because happiness is a supreme good, and we do everything we can to stay alive as long as possible, only to have it cut short.
Why is death the end? We all believe, deep down in our bones, it shouldn't be. Why do we think that, I wonder?
That We Should Lose Our Loved Ones to War Is a Tragic Loss and the Ultimate Betrayal
Especially when wars do not cease.
Jesus Came Alongside Them
And while they were discussing and arguing, Jesus himself came near and began to walk along with them. But they were prevented from recognising him. (Luke 24:15–16)
The Disciples' Grief Kept Them From Recognising Him
It is often the case that, in grief, we cannot think clearly.
They were discouraged by all that happened and could not perceive the reasons to be happy all around them, nor the source of their joy who had just appeared to them.
Jesus Helped Them to Understand
Jesus explained to them all the scriptures said about him (Lk 24:25-27), what they should have known already, from him and from their teachers.
Had they known their scriptures, they would have known how God has been with people throughout human history.
These Disciples Only Recognised Jesus When He Broke Bread With Him
It was as he reclined at the table with them that he took the bread, blessed and broke it, and gave it to them. Then their eyes were opened, and they recognised him, but he disappeared from their sight. (Luke 24:30–31)
Jesus Was Repeating an Ordinary Ritual With Them
This action was repeated at every meal, in every Jewish home, every day.
They had, in fact, shared meals with Jesus very often in the past. Maybe he had a peculiar way of performing the blessing?
Sharing food with family and friends is a simple and easy way to redirect one's attention to sustenance and relationship, and thus turn ones mood to more pleasant thoughts.
God Is With Us in the Ordinary
For most religions, one has to go to designated places at designated times, to perform designated rituals and make designated contributions, to hopefully gain their god's attention and win their god's favour.
In a revolutionary way, Jesus was reiterating how God was with them in the ordinary moments, perhaps even more so than the extraordinary moments. It is no coincidence Adam and Eve enjoyed walks in the Garden with our Creator (Gen 3:8).
Every moment is sacred for those with eyes, ears and hearts open (Mt 13:15); every moment can become a sacrament —which is a moment of grace and a special awareness of God's presence and gifts— if we let it be so.
Jesus Was and Is Living Proof
Death is not the end (Lk 24:33–34).
In many respects I would find an unresurrected Jesus easier to accept. Easter makes Him dangerous. Because of Easter I have to listen to His extravagant claims and can no longer pick and choose from His sayings. Moreover, Easter means He must be loose out there somewhere. Like the disciples, I never know where Jesus might turn up, how He might speak to me, what He might ask of me. As Frederick Buechner says, Easter means "we can never nail Him down, not even if the nails we use are real and the thing we nail Him to is a cross." (Philip Yancey, The Jesus I Never Knew, pp. 225)
By faith, the friends of Jesus, have victory over the power of sin (Ro 7:24-25), over temptation (1 Co 10:13), over the world (1 Jn 5:4-5), over the devil (Rev 12:10-11), and over death (1 Co 15:22-23).
While these disciples had every reason to feel grief, they learnt, more importantly, they had every reason to enjoy the free, full, and forever life Jesus promised to his friends.
Conclusion
When in grief, as in every ordinary moment, keep your eyes, ears, and heart open for the presence of God. Begin and end your day in prayer, pray continuously, and rejoice in everything (Ro 12:12).
If experiencing a lack of awareness of God's presence (cf. Isa 45:15), perhaps because of grief, imagine how God would be present and what he is doing in, with, and through you. Imagination prepares us, since you do know enough about him to know, "God moves in a mysterious way/His wonders to perform" (William Cowper; cf. Isa 55:8-9).
While I cannot promise God is present in the same way with those who are not the friends of Jesus, we can help others to be aware of the Spirit by sharing our story and interpreting their situation from an imaginative perspective. For we know, "you will search for the LORD your God, and you will find him when you seek him with all your heart and all your soul" (Dt 4:29).
[1] Unless otherwise noted, all scripture quotations are taken from The Christian Standard Bible (Nashville, TN, USA: Holman Bible Publishers, 2017).